Posts for: April, 2018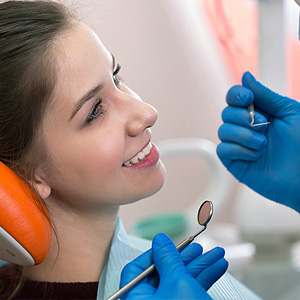 After treating you for periodontal (gum) disease for some time, we may suggest you see a periodontist, a specialist in gum conditions and diseases. There are a number of reasons for a referral, including the specific type of gum disease you may have developed.
Here are 4 more reasons why seeing a periodontist might be advantageous at this stage in your dental care.
Advanced treatment. All dentists are skilled in basic treatment procedures for gum disease, particularly removing plaque and calculus (hardened plaque deposits) that cause and sustain infections. But if your disease has advanced deeper below the gum line and has resulted in infection-filled void pockets between teeth and gums or in gum recession (the tissues shrinking back from the teeth), you may need more advanced techniques and equipment provided by a periodontist.
Advanced Cleanings. Regular, twice-a-year office cleanings are part of every dental care program. But depending on the severity of your gum disease (and your own hygiene efforts) you may need more frequent and advanced cleanings to keep recurring infections at bay. A periodontist can provide this, as well as help you develop a daily hygiene plan that meets your needs.
Your general health. There are a number of systemic conditions like diabetes, cardiovascular disease or pregnancy that can affect gum health. Many of these issues are tied to tissue inflammation, a major component of chronic gum disease, as well as slower tissue healing. As specialists in the gums and their relationship with the rest of the body, a periodontist can develop a treatment approach that coordinates with these other health issues.
Future restoration preparation. One of our treatment goals with gum disease is to try to prolong the life of natural teeth for as long as possible. In reality, though, some or all of your teeth may have a shortened life expectancy. If a comprehensive dental restoration is in your future, a periodontist can help prepare your gums for the inevitable. They may also be able to repair or restore gum tissues that enhance the appearance of a restoration to create a more attractive smile.
If you would like more information on advanced treatment for periodontal disease, please contact us or schedule an appointment for a consultation. You can also learn more about this topic by reading the Dear Doctor magazine article "Referral to a Dental Specialist."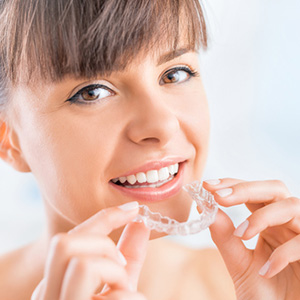 Your teen is about to embark on an orthodontic journey to a straighter, more attractive smile. But although you're excited about the outcome, you both may be steeling yourselves for a few years of "life with braces."
But maybe not—your teen may be able to take advantage of a different kind of corrective appliance: clear aligners. This 21st Century teeth movement method has a number of advantages over braces. For teens, though, there's one big one that could have a huge impact on their social life—clear aligners are nearly invisible to other people.
Clear aligners consist of a series of clear, removable, computer-generated trays based on photographs, models and x-rays of an individual patient's teeth and bite. Each of the trays is slightly different from the previous one in the series, and by wearing each one for about two weeks before moving on to the next, the aligners gradually move the teeth to the desired new positions.
Besides reducing embarrassment often associated with wearing metal braces, clear aligners have other benefits. Unlike braces, they can be removed for eating, easier oral hygiene or for rare special occasions (although for best effectiveness, they should be worn for 20 to 22 hours each day). Recent developments like added elements that help target certain teeth for movement or "power ridges" for more controlled and efficient force have increased the range of bite problems they can be used to correct.
While this means clear aligners can be used for many bite problems, in some severe cases braces and other orthodontic treatments might still be necessary. And because they're not fixed like braces (only the orthodontist can remove them) the patient must have the maturity and self-discipline to wear them consistently.
Your teen will need to undergo a thorough orthodontic examination to see if clear aligners are a viable option for them. If so, it could make the next few treatment years less stressful for both of you.
If you would like more information on clear aligners, please contact us or schedule an appointment for a consultation. You can also learn more about this topic by reading the Dear Doctor magazine article "Clear Aligners for Teens: User-Friendly Orthodontics."